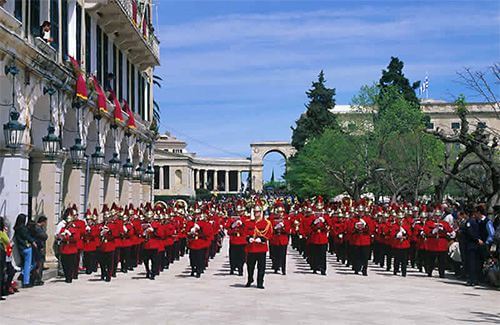 Happy Easter!
Easter in Corfu is one of the most wonderful events of the year with brass bands, choirs, pot smashing , fireworks, candlelit processions and thousands of visitors, largely from the Greek mainland who visit Corfu for her unique traditions, spectacular beauty, hospitality and amazing musical heritage. Anyone that has not been at this time of year really should come. It is fantastic. The flowers are in full bloom, the weather is gorgeous and the Easter celebrations rival any such celebrations in Europe, if not the world.
This year it also coincides with the islands first major arrivals so most local people are working extremely hard either with Easter guests or with imminent arrivals and very often, both. So for us, as with most other people I know it was a rather rushed couple of days working hard to get things ready for arrivals whilst also whitewashing walls, spring cleaning houses and buying gifts and food for Easter Sunday at least.
Not enough time for lamb on the spit this year...but we all made time for a great family day at home with good food, wine and excellent company...and Happy 90th birthday to my Grandad too...
Happy Easter Monday and here's to next year!
http://greece.greekreporter.com/2013/05/05/corfu-packed-again-at-easter/
http://www.youtube.com/watch?v=5YzuV7hSRoU